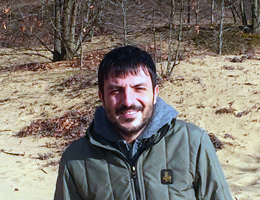 PhD Student, Michigan State University
Landscape Ecology & Ecosystem Science (LEES)
Vincenzo Giannico is a PhD candidate in "Biodiversity, Agriculture and Environment" at the Department of Agriculture and Environmental Sciences (DISAAT), University of Bari. His doctoral research focuses on ecosystem service trade-offs of urban and peri-urban forest areas using high resolution remotely sensed data (i.e. LiDAR, Multi- and Hyperspectral data).

Specifically, the aim of his research is to find explanatory variables derived from remote sensing data capable of estimating carbon stored in biomass, the amount of biodiversity and its patterns, and to understand the relationships among these ecosystem services. Previously, he did an internship in "Planetek Italia", a leader company in the field of Earth Observation technologies, where he performed pre-processing and advanced analysis methodologies on optical and laser sensor data and more. His main research interests are ecosystem modeling, ecosystem services, remote sensing of the environment, and applications of geomatics in forestry.