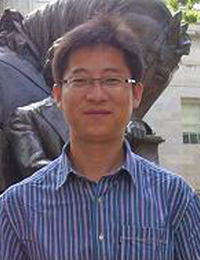 Research Associate, Michigan State University
Landscape Ecology & Ecosystem Science (LEES)
Dr. Shao's aims to understand human-environment interactions and focuses on climate, land-use, and land-cover changes. He studies these interactions through eddy covariance towers placed in multiple ecosystems and both observes and analyzes data from carbon, water, and energy fluxes. In the past, he has maintained two mobile flux towers in Inner Mongolia for 3 years and has published data online. Currently, he maintains three fluxes towers in the Great Lakes region and serves as a technical adviser for six towers in the Mongolian Plateau.
Awards & Services
US-China Carbon Consortium (2009-present)
Foundation of Chinese Academy of Sciences (2009-2011)
NSFC (2008)
NASA LCLUC Science Team (2005-2008)